Windows XP support ends April 8, 2014. Microsoft will no longer be providing patches, updates or support, and Windows XP computers will no longer meet UCSF minimum security requirements beyond that date. It is highly recommended that you upgrade your system to Windows 7 as soon as possible.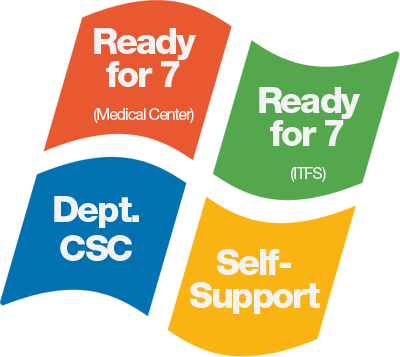 More information regarding how to upgrade, exceptions, risks and hardware can be found on our respective web pages below.
How to determine your current operating system
If you have a PC:
1. Find the "Computer" or "My Computer" icon on your computer (Typically, on your Desktop)
2. Right click on the icon and select "Properties"
3. The "System Properties" window will appear
4. The Operating System will be listed first
i.e. "System" Microsoft Windows XP, Vista, 7, etc."
If you have a Mac (you are not affected, but, here's how to determine your OS):
1. From the "Apple"  menu, choose "About This Mac"
2. Click the Version number underneath where the window says "OS X"
3. The "About This Mac" window then displays your OS X version
4. For a list of Version numbers and respective names see:
http://support.apple.com/kb/ht1633
Help Videos